Published: 02/07/2021
This month our donation is going to a fantastic organisation run by two wonderful women, Barbara and Eunice. These ladies set up Tots 2 Teens to help struggling families clothe their children, since opening they have helped many children from little babies to teenagers by providing clothes, nappies and nursery equipment. They rely totally on donations and were overwhelmed to have been chosen by The 500 Club to receive our donation. Last night I spent the evening purchasing items that they requested which we will deliver to them next week.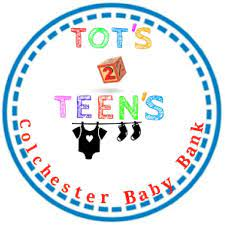 Barbara and Eunice have sent the message below to you all expressing their thanks.
Hi Debbie and all of Palmer & Partners 500 Club
Myself and Eunice would just like to say a Huge thank you to you all for choosing Tots2Teens to receive a very appreciated grant from yourselves. We were overwhelmed with gratitude when we received the email informing us. Tots2Teens has been running since November 2018 and we are solely voluntary relying totally on donations. This grant will be invaluable not only just to us at Tots2Teens but also to so many families that we help within Colchester. We look forward to being able to provide families with some much needed equipment of which this grant will enable us to do. Once again many thanks to the 500 Club Members.
Barbara and Eunice