Palmer and Partners, where possible, like to engage in the community. From being the main sponsor of the
Langham 10k
with a thousand runners for the local primary school to sponsoring the
Eight Ash Green
festival, we are always looking to engage in the community. We also look to sponsor local school fetes including,
Shorefields
in Weeley,
Sidegate
Primary School Ipswich. Christchurch park firework display for the Ipswich scouts. To name just a few of the organisations we like to support.
Brady Rackham, the Partner of the Clacton-on-Sea estate and lettings office, is also the football manager for
Holland FC
Under 8's. They play regularly at the Dulwich Road Community Stadium where you will also find our distinct signage around the ground. Come and show your support to your local football team! I think you'll agree we love the orange kits.
Palmer and Partners Clacton
estate and letting agents are proud sponsors of
Clacton golf club
and are often involved in their summer events. We currently sponsor the 7 buggy's that can be seen whizzing around the course!
Palmer and Partners are delighted to be the main sponsor of
East Bergholt Cricket Club
.
Alfie Foster, who works for the Colchester office, is captain of the club, and is very proud of the clubs current performance this season.
Palmer and Partners Colchester
estate and letting agents for a number of years now, have been the main sponsor of the
Langham 10k
, which is an important date on a runners calendar as it is one of the fastest 10k courses in Essex. We normally have around 1000 runners, so it's a big day locally with all proceeds going to friends of
Langham Primary School
giving a much needed boost to the school funds.
Palmer and Partners Ipswich
estate and letting agents are proud to be involved with St Joseph's Rugby festival for the last few years.
Lewis Ludlam
was at the school when the above team picture was taken. He now plays for England!
Oliver Marshall, the Clacton estate and letting agents EPC surveyor, will be racing his rally car with his father around local track days this season, which will also include
Brands Hatch
!
More Community Engagement Stories
How We've Helped Through COVID-19 and Beyond
How we have helped through COVID-19 and beyond.
Well, we are now over four weeks into lockdown and the world really does seem like a different place, getting back to our old way of life still seems some way in the distance. Despite the horrors of this awful virus, I am struck by the bravery, commitment and selfless nature of so many people in our community, not just the fantastic NHS and healthcare staff who are working so hard to keep us safe but the many kind-hearted individuals taking time out to help the vulnerable people around us.
With this in mind, our donation this month has been given to a campaign called 'Get Colchester Covered'. This fund-raising campaign was instigated by Peter Dutch who started a Facebook page called the Anti-loo Roll Brigade in response to the panic buying last month, his motivation was to ensure that isolated and vulnerable people could get the essentials they needed. His commitment and energy to help others has been incredible. The Anti-loo Roll Brigade is now in partnership with St Helena Hospice and is trying to raise £15,000 to ensure staff at the Hospice and in our local Care Homes have enough personal protection equipment to keep themselves safe so they can continue to care effectively for their patients.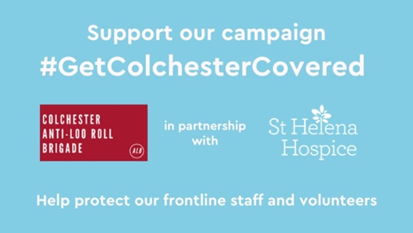 In addition to our normal £500 donation, The 500 Club has been able to fund a Facebook 'give away'. The Palmer & Partners office Facebook friends were asked to nominate a Frontline Worker to receive a £50 voucher from a choice of 7 stores. We announced the winners last night at 8pm and I think you will agree it's wonderful to be able to give a treat to these amazing people whom we all rely on so much.
If you would like to become a 500 Club member or have a local cause to nominate, please contact us on administration@palmerpartners.org and subscribe. For further details on how to subscribe
please click here.
Kernos Centre
Thank you to Karen Smout, our
Palmer & Partners 500
Club member who nominated
The Kernos Centre
in Sudbury for December's donation, the 500 Club Committee felt this a poignant time to help this charity with so many people struggling at Christmas . The Kernos Centre is a small charity which has been operating since 2003 and who support vulnerable adults and young people in the local area of Sudbury and the surrounding villages to help local people to be heard and to work with their problems and regain their health and wellbeing. Our donation will help provide counselling to local people in need, who cannot get help on the NHS, nor afford to contribute towards the cost of their counselling, but still desperately need help.
Christine Boatwright, the Clinical Director of The Kernos Centre commented "The local need and demand for our service is much greater now than when we first opened in 2003. Kernos received 449 referrals this year. 134 for children and young people, of which 44 were of primary school age. We are currently providing 80 face-to-face counselling sessions per week I do believe we are the 'net beneath the net' for so many vulnerable people in our local community. We passionately believe in providing equal access to all. That is why the Kernos Centre was formed and why we still exist today.
Many thanks to all our generous Club Members who are really making a difference and if you would like more information on how to become a '500 Club Member' and make a difference yourself please do not hesitate to contact administation@palmerpartners500club.org
Little Louise
This beautiful little girl is Louise, she is 14 months old and as she was born at just 24 weeks has fought for her life many times, she is currently very poorly. Having received a nomination for Louise and her family in early January the 500 Club Committee felt that little Louise and her family should receive Januarys £500. Our members donation was much appreciated and will help enable this local family to be at Louise's bedside.
P&P 500 Club Munch Club
As The
Palmer & Partners 500 Club
is now in full swing, during November we were in the position to make our first subscription based donation of £500. Hayley Trustrum, one of our club members, nominated
The Monkwick Munch Club
in Colchester after she had met Maureen, who runs the club, by chance last summer on a sunny afternoon in a pub beer garden and after Maureen had explained how she spends her time, Hayley was stuck by what an amazing person Maureen was and what a worth while cause The Munch Club is. The Munch Club aims to provide children and their families who qualify for free school meals to a hot meal during the school holidays. Having spoken to Maureen, the need for this provision is ever increasing and she has now opened a further two Munch Clubs across Colchester with a fourth soon to be opening.
Just before Christmas a few members of The 500 Club Committee and I went along to the
Monkwick Scout Hall
where the Munch Club is held and spent a humbling few hours helping Maureen and her team. It was an experience I know none of us will forget. Firstly, Maureen provided a meal for 15-20 families and as it was Christmas, after the plates had been cleared away each child received a wrapped present which caused great excitement. Following this crates of tinned and packeted food were produced along with fresh meat and fresh vegetables. Each family was given enough food for the next four days. Maureen had all this running like clockwork and the following few days would be identical for Maureen with different families in different Munch Clubs. The children and their parents clearly love Maureen and respect everything she does for them. She truly is an inspiring woman and someone that I can say it's been a privilege to meet.
To become a
Palmer & Partners
500 Club Member and to help other causes like The Munch Club contact
administration@palmerpartners500club.org