Published: 28/04/2020
How we have helped through COVID-19 and beyond.
Well, we are now over four weeks into lockdown and the world really does seem like a different place, getting back to our old way of life still seems some way in the distance. Despite the horrors of this awful virus, I am struck by the bravery, commitment and selfless nature of so many people in our community, not just the fantastic NHS and healthcare staff who are working so hard to keep us safe but the many kind-hearted individuals taking time out to help the vulnerable people around us.
With this in mind, our donation this month has been given to a campaign called 'Get Colchester Covered'. This fund-raising campaign was instigated by Peter Dutch who started a Facebook page called the Anti-loo Roll Brigade in response to the panic buying last month, his motivation was to ensure that isolated and vulnerable people could get the essentials they needed. His commitment and energy to help others has been incredible. The Anti-loo Roll Brigade is now in partnership with St Helena Hospice and is trying to raise £15,000 to ensure staff at the Hospice and in our local Care Homes have enough personal protection equipment to keep themselves safe so they can continue to care effectively for their patients.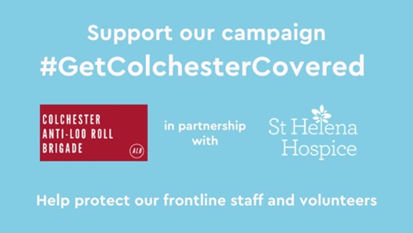 In addition to our normal £500 donation, The 500 Club has been able to fund a Facebook 'give away'. The Palmer & Partners office Facebook friends were asked to nominate a Frontline Worker to receive a £50 voucher from a choice of 7 stores. We announced the winners last night at 8pm and I think you will agree it's wonderful to be able to give a treat to these amazing people whom we all rely on so much.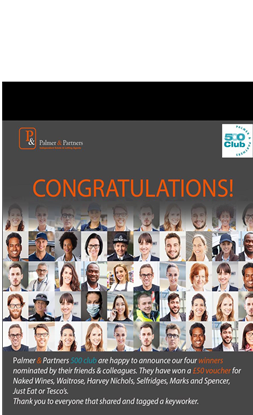 If you would like to become a 500 Club member or have a local cause to nominate, please contact us on administration@palmerpartners.org and subscribe. For further details on how to subscribe
please click here.